BETTY MARSHALL, President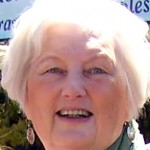 Betty, President of St. Andrew's Place Board is a retired Radiology Administrator. Her history with the assisted living community goes back to 2007, 2008 — she's been involved since she was the Senior Warden during a vacancy at the neighboring Episcopal church. What she's all about: "I feel the elderly should be treated with dignity and respect and that they should have a warm, safe, carefree place to live." 
HEIDI SIMPSON, Board Member
Heidi Simpson was the area sales rep. for Lamont's for many years before she became a stay at home mom for 12 years.  Heidi is now co-owner/CFO of Angeles Electric.
JANE GIESE, Board Member

The retired Registered Nurse was asked by the vestry of St. Andrew's Episcopal Church to be a Board Member representing the church.
SALLY WINTERNITZ, Board Member
Sally works as a physician. She has been a member of St. Andrew's Church for 10 years and was recommended to the Board by the church's priest, Gail Wheatley. Having been an advocate for her parents, especially her father and stepmother during the end of their lives, Sally recognizes the need for quality housing for people as they age and require more care than can be provided at home.