Welcome to St. Andrew's Place Assisted Living!
Our community offers three levels of care, thereby enabling us to meet a broad range of personal needs and preferences. Your rent is based upon the level of service you require from our staff and the size of the apartment you are living in. Included in your monthly rent: three meals served daily, nutritious snacks, routine maintenance and expert personal care (not included: cable or phone). Your monthly bill is inclusive and does not contain any hidden or add-on cost to you unless noted in your rental agreement.
We are excited to offer this affordable alternative to living alone or with loved ones. We provide 24-hour staff assistance, making for a safe and loving environment. Each apartment has a locking door, ensuring your privacy, and each resident has a call button to call for help when needed.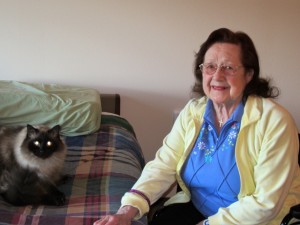 In keeping with our at-home atmosphere, your small pets are welcome! We require a non-refundable pet deposit of $500. All animals must have regular examinations and immunizations, appropriate for the species, by a veterinarian licensed in Washington state.

We know that making the choice to move from a private home to a community like St. Andrew's Place can be very overwhelming. Rest assured, our residents and staff will welcome you with open arms, should you choose to make St. Andrew's Place home.
If you have not had a tour, we'd love to introduce you to our home and our deep commitment to you, our incoming resident. Thank you for considering our assisted living community and looking deeper to discover why a not-for-profit makes all the difference.